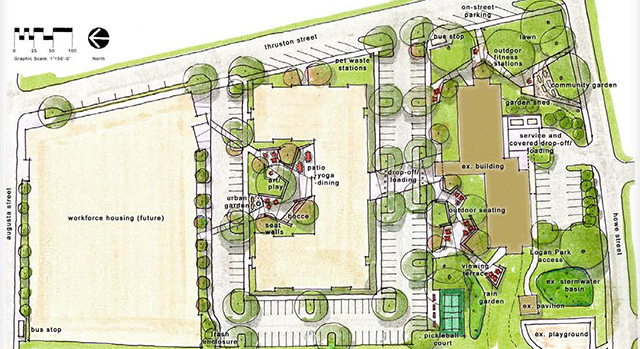 The Preserve at Logan Park, developed by the Greenville Housing Authority on the site of the former Scott Towers public housing on Augusta Street in the Haynie-Sirrine neighborhood, will result in the new construction or renovation of 193 units of affordable senior housing, and the new construction of up to 180 units of workforce housing, over three phases of development.
Phase I (completed 2020) included the renovation of an existing 80-unit senior housing community on Thurston Street for seniors. Supportive rent vouchers are available for residents in these one-bedroom units who are veterans or who were experiencing homelessness.
Phase II (completed 2020) added 113 modern one-bedroom units in a new building constructed adjacent to Phase I.
Phase III will consist of the development of workforce housing for households earning from 100% – 150% of AMI. These apartments will be especially convenient and walkable for downtown service-sector workers. Conceptual plans anticipate a five-story building with approximately 180 one- and two-bedroom units, along with parking, amenities, and small retail and service spaces.